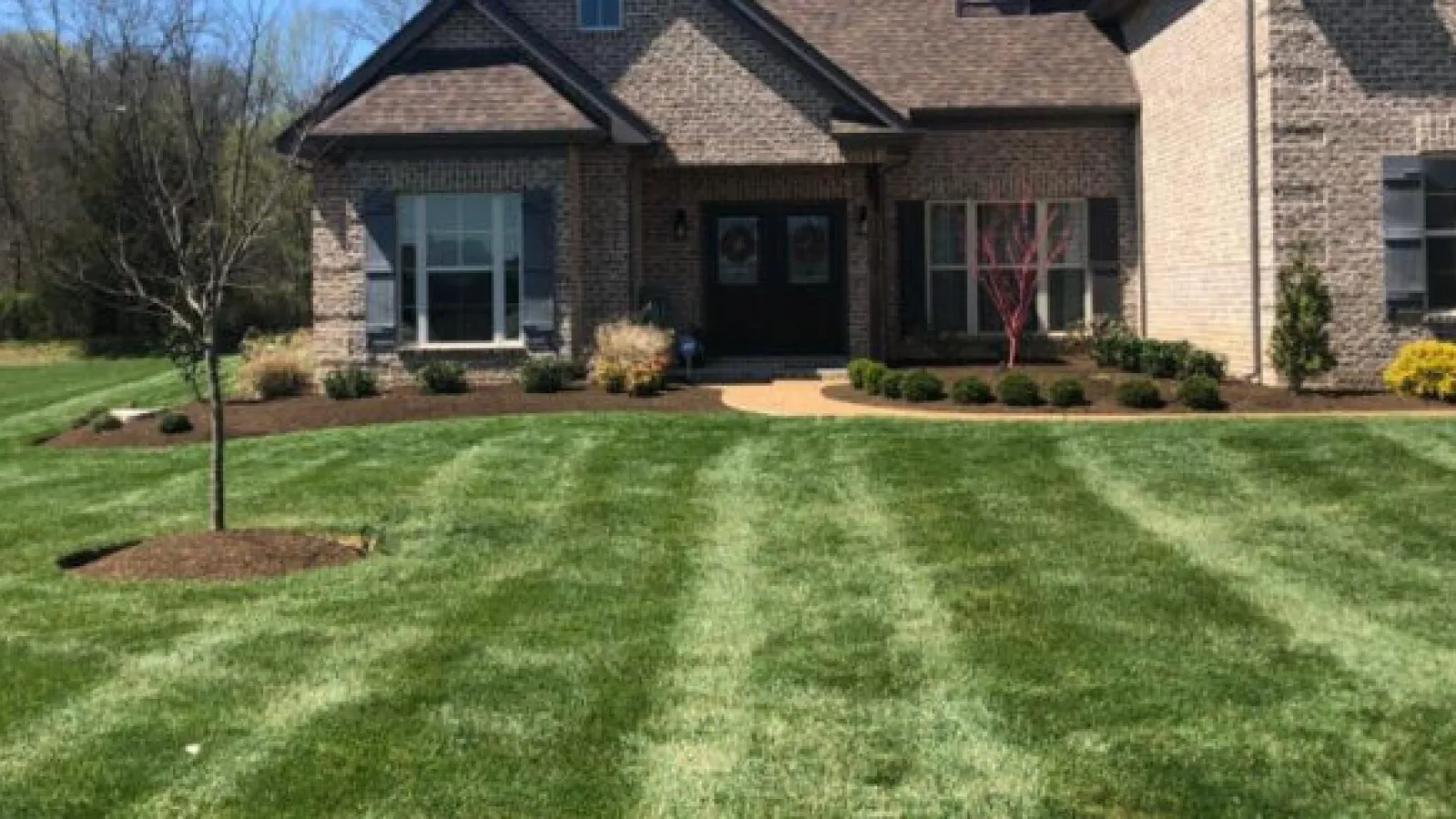 3 Imperative Services for a Healthy Fescue Lawn
A Fescue lawn requires the most maintenance of any grass, but having a lawn you'll be proud of and make your neighbors drool with envy is achievable. Proper lawn maintenance and services that are designed for your specific turf type can yield a healthy, green, dense lawn more resistant to weeds and disease.
For the Fescue lawn of your dreams, we recommend the following services: lawn fertilization and weed control, fungicide treatments, and aeration and seeding.
Lawn Fertilization & Weed Control
Lawn fertilization and weed control is the foundation for a beautiful Fescue lawn. Regular treatments at the appropriate time using the appropriate type and volume of product is imperative. Our program includes applications of a custom blend of fertilizer that gives your grass the nutrients it needs for growth and color. Pre-emergent and post-emergent herbicides are used to kill existing weeds and prevent future growth.
Fungicide Treatments
Brown Patch Fungus is one of the most destructive of all turfgrass diseases and commonly affects Fescue. Having fungicide treatments to prevent Brown Patch is a critical component of Fescue turf health and sustainability.
Facts about Brown Patch
Develops in cooler temperatures but not visible until temperatures and humidity rise
Most visible in late spring and early summer
Caused by different strains of Rhizoctonia solani
First appears as circular areas of brown and dead grass surrounded by a narrow, dark ring
Spreads quickly
Watering early in the morning, mowing frequently at the proper height, using pre- and post-emergent weed control, and fertilizing your lawn at the proper time are all steps you can take to reduce the likelihood of Brown Patch fungus. We recommend mowing at a height of 4 inches during in the spring and summer months to fight the disease. Fertilizing a Fescue lawn during Brown Patch season will feed the disease and make things worse, so it's important to have professional care.
Despite regular lawn maintenance, and proper watering and mowing, sometimes fungus will still develop. Fungal diseases in your lawn can not only be embarrassing, but are often difficult to control without the appropriate products and care. Properly timed applications of fungicides are your best weapon against Brown Patch. We provide these treatments monthly May to September to effectively prevent and control this disease.
Aeration & Seeding
The third component to having the most wonderful Fescue lawn possible is aeration and seeding. Aeration and seeding promote growth in bare areas and create a denser turf more resistant to drought, heat and fungus.
Aeration is the process of removing small plugs of soil from the ground. It loosens the clay soil allowing oxygen, water and nutrients to reach the roots. It helps roots grow deep so then lawn can better tolerate to environmental conditions.
Seeding after aeration is important because Fescue is a clump-style grass and spreads primarily through tillers—vertical shoots that grow from the base of the grass plant.  We use a custom blend of seed shown to have superior resistance to drought, disease and heat stress.  After seeding, we cover the seed in the bare areas to condition the soil and insulate the new seeds. 
We complete aeration and seeding services for Fescue lawns in September and October just before the peak growing season.
For more information about any of our services offered for Fescue lawns, contact us. Together, we can help you have a beautiful Fescue lawn. Trust 'The Nice Guys' at Turf Masters Lawn Care.