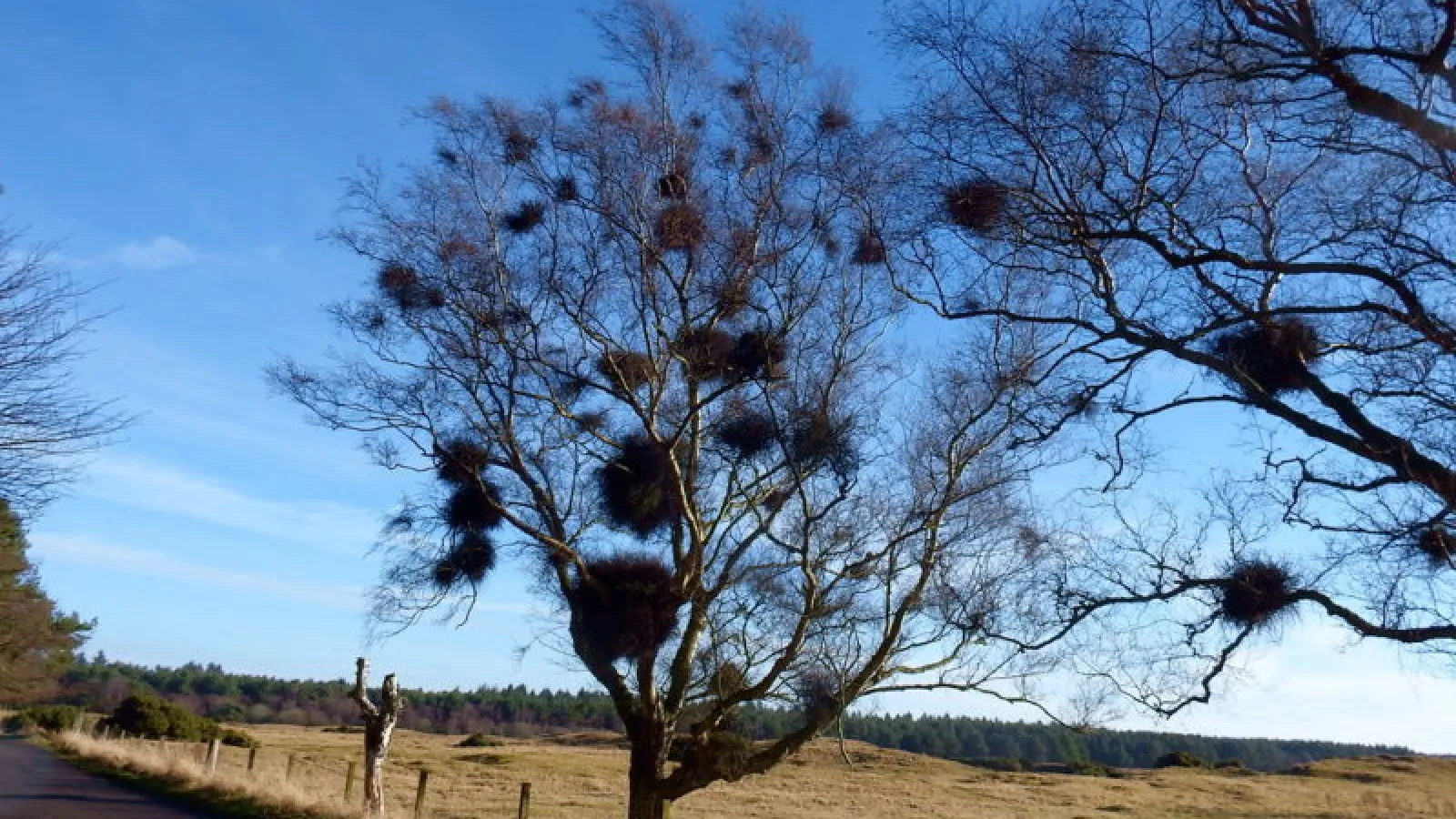 Most homeowners have heard of armyworms, Zoysia patch, brown patch fungus, and chinch bugs. But what about stinkhorns, dog vomit slime mold, and witches' broom disease? These are just a few conditions we don't normally experience in the southeast, but sometimes they do. Keep reading to learn more about these and other anomalies we see in lawn care.
Stinkhorns
Stinkhorns are a type of mushroom commonly found in areas with a temperate climate, but occasionally, we'll see them in the south-or rather, smell them. They get their name from their unpleasant odor. Stinkhorns produce a dark ooze, spores, and a pungent odor that smells like rotting flesh or dung. After heavy rain or prolonged periods of wetness, these mushrooms may appear.
And you know what comes along with a rotting smell? Insects and flies. The flies eat the slimy material and carry the spores to new locations. Although stinkhorns typically don't cause harm to your lawn, they can attract unwanted pests. Despite their unique and intriguing appearance, it's best to manually remove these smelly mushrooms.
Stinkhorn facts
Name derived from "stink" for the foul smell they emit and "horn" for the shape of the mature fruiting body
Some people eat them on salads, in soups, and pickle them. They're considered a delicacy in China.
Commonly found in mulch, gardens, and turfgrass-organic material
Short-lived and will naturally dieback quickly
Important to still remove the mushrooms because they can remain in the soil and eventually produce other more mushrooms
Types of stinkhorns
Elegant stinkhorn - They can pop up overnight in various landscapes, including well-manicured lawns.
Netted or latticed stinkhorn - Also known as a bridal veil, this mushroom is used in China for cooking, weight gain, and as a remedy for high blood pressure.
Stinky squid mushroom- As they emerge from the ground, they have an egg appearance.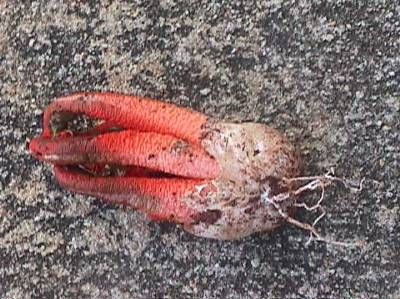 Dog Vomit Slime Mold
What a name, right? This slime mold has nothing to do with your 4-legged friend's vomit. Instead, the name comes from the mold's yellowish, bile-colored appearance. Dog vomit slime mold resembles scrambled eggs, so you may hear it referred to as scrambled egg slime. (We hope you've already had breakfast.) You probably won't hear it called by its scientific name, Fulgio septicai, often. And it's not a mold or a fungus; it's most closely related to an amoeba. Slime mold is a primitive organism that survives by feeding on decaying or dead organic matter.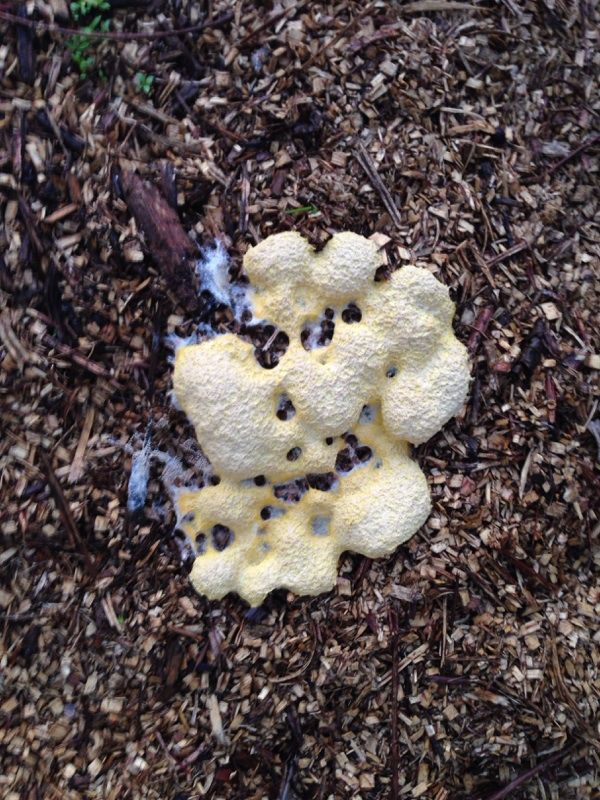 This interesting slime is typically found in mulched areas or turfgrass in the fall and late spring due to its love of warm temperatures and high moisture. Fortunately, dog vomit slime mold doesn't harm plants, pets, or the environment, so you can leave it alone. Don't worry, the bright yellow color won't stay around for long. It will break down rather quickly, sometimes in 48 hours, turn into a neutral color and blend in with the environment.
Witches' Broom Disease
This unusual occurrence in trees gets its name from brooms once fashioned together from bundles of twigs and witches presumed to be responsible for anything unusual. Witches' broom appears as a dense cluster of twigs or thick stems that develop on woody plants. Although they may be intriguing to look at, the "broom" is a sign of distress. The clustered area will often die and can cause some small or less-healthy plants to succumb altogether.
Several conditions can cause your plant to stress, including insects, mites, fungi, viruses, and bacteria. So, when you see a witches' broom on your plant or tree, you'll know it's a secondary reaction to another problem. For example, oak trees often develop witches' broom disease from powdery mildew; cedar trees develop it from rust. You may also see witches' brooms in dogwoods, willows, peach, and pine trees.
The best treatment for witches' broom disease is to remove the cluster from the tree. It may grow back over the next few years; continue to remove it. But more importantly, reduce the stress on the plant.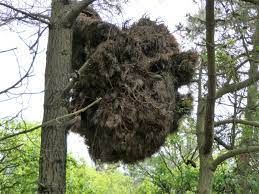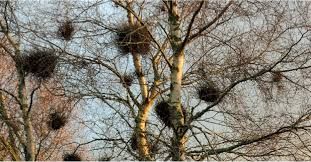 Digger Bees
Digger bees are small, hairy, or metallic bees that dig underground tunnels in the ground to nest. You may also hear them called mining bees. These bees get a bad rap because they often dig in bare spots of lawns and are blamed for destroying the grass. But this isn't true. Digger bees don't harm your lawn but rather are attracted to bare areas in your lawn. (Remember, keeping your lawn healthy and thick isn't just for looks.) They're just playing their role in the ecosystem-destroying harmful insects and pollinating the world. Digger bees are important pollinators of several native plants and crops.
These little ground bees measure ¼ to ½ inch long and are non-aggressive, solitary bees. Other than your normal lawn care maintenance program, no chemical intervention is needed.

Fairy Rings
Fairy rings are circular areas of abnormal turf growth. They are most commonly found on golf courses where soils have high levels of organic matter and in areas where trees have recently been removed. According to medieval lore, fairy rings were thought to appear after a band of fairies danced in the area. This happens when certain fungi feed on decaying matter and are buried in the soil.
Fairy rings can look vastly different.
Some produce compounds that reduce water absorption to the soil, leading to drought conditions that cause the grass in the ring to brown and die.
Some fungi efficiently decay organic matter releasing nitrogen that promotes lush growth and leads to a dense green ring of grass. It will appear more green and lush than the surrounding areas.
Fairy rings of mushrooms can appear during wet periods, particularly in the fall.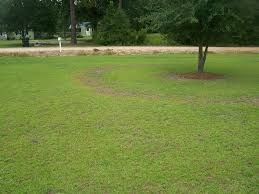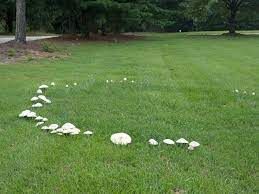 Now that we've provided you with so much fun information make sure to keep your eyes open for these anomalies. While we may not treat the anomaly itself, our professional lawn care program and tree and shrub program can help prevent the stress normally the main cause of these strange situations.