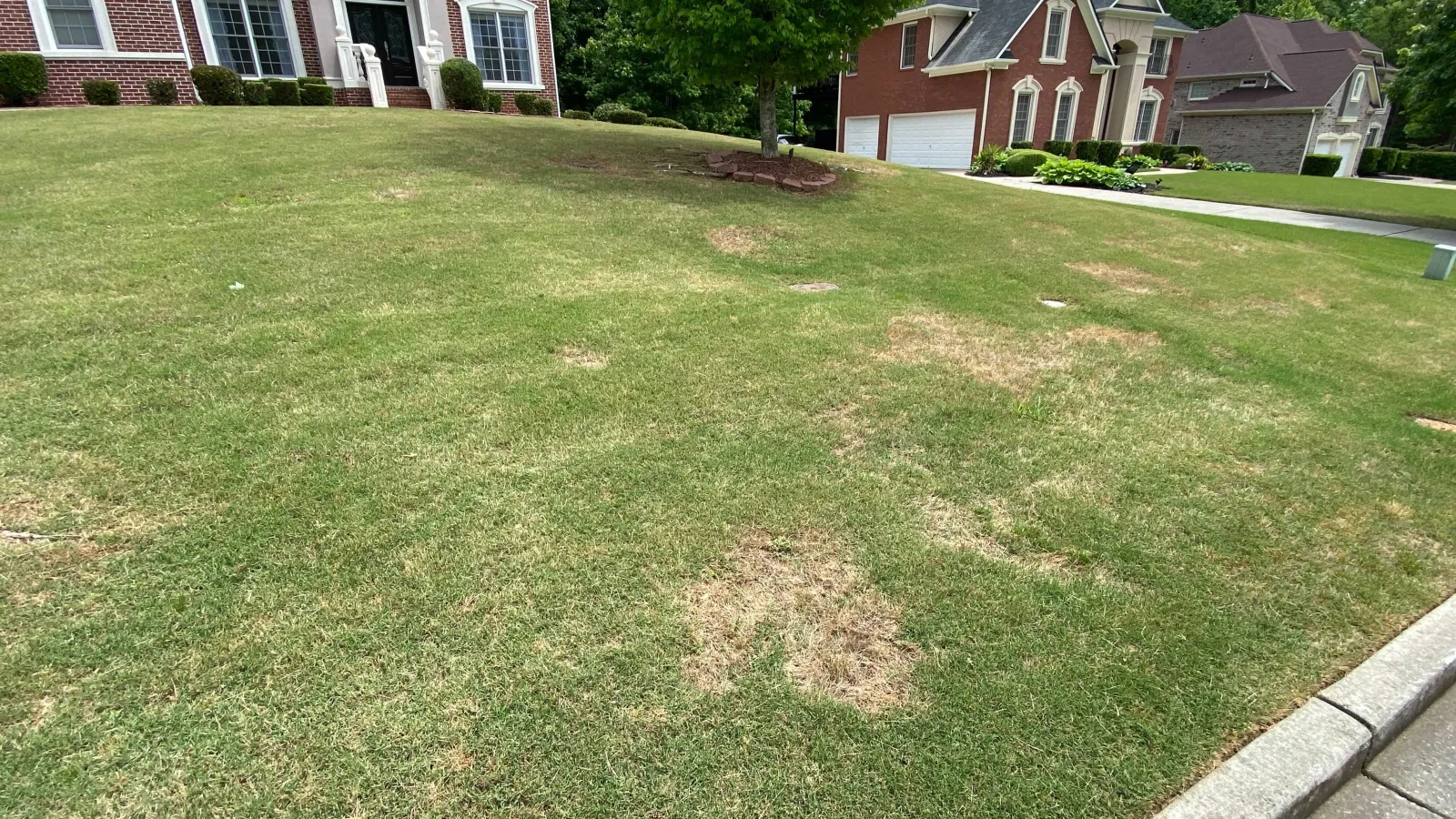 Zoysia is a warm-season grass that's easy to care for and is highly versatile and drought tolerant. This makes it a popular choice for many homeowners. Although it is relatively free from most diseases and pests, the most common Zoysia grass issue is large patch fungus—called Zoysia Patch in Zoysia lawns.
Zoysia Patch Fungus is caused by a soil-borne fungus called Rhizoctonia solani (R. solani).  It survives in the thatch of the lawn. (Thatch is the build up of undecomposed organic matter above the soil line.)   Zoysia Patch is apparent in early spring or fall when the grass is coming out of and going into dormancy.  It is most active when thatch temperatures are between 50 and 85 degrees Fahrenheit.
Favorable Lawn Conditions for Zoysia Patch
Thick thatch
Moist soil
Low mowing heights
Poor soil drainage
Excessive nitrogen
Zoysia Patch appears in your lawn in irregular patches of discolored grass 6 inches to 20 feet in diameter.  The patches have an orange "fringe" around the perimeter which indicates the disease is active. The orange border consists of newly infected plants where the lower leaves are just starting to die as the fungus invades and kills the grass.
Measures of Control
Reduce thatch (no more than 1")
Improve drainage to avoid soil saturation
Do not overwater the grass
Do not mow when the grass is wet
Bag and remove grass clippings from patch areas
Increase air circulation (Remember, trees & shrubs contribute to shade and can limit air circulation.)
Maintain appropriate nitrogen levels
There are no over-the-counter products available to control this fungus. However, homeowners can take the measures above to try to prevent and control Zoysia Patch.
Although spores of R. solani cannot be fully eliminated, having a healthy Zoysia lawn will make it less susceptible to the disease. Our appropriately timed lawn treatments contain the correct amount of nitrogen, applied at the correct time of year. Our Fungicide treatments provide extra protection against Zoysia Patch.
If you think may have Zoysia Patch fungus in your lawn or to learn more about our Lawn Fertilization & Weed Control Program or Fungicide treatments, please contact us.